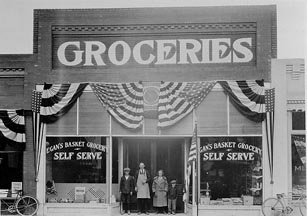 Egan's Basket Grocery Store Front
Paul Egan, Clarence Egan, and two unidentified individuals
Egan's Basket Grocery Interior
Clarence Egan

The San Luis Valley of southern Colorado had never seen anything like it. In 1921 Clarence Egan opened Egan's Basket Grocery at 620 Main St., Alamosa, and the people of that town began to do business in the area's first self-service market.
Egan's store would have fitted into the meat department of a 1967 supermarket, but he had all the basic ideas of present-day serve-yourself stores.
The customer passed through a turnstile on the left, picked up a wicker basket from a bin, and was on his own. Canned and bottled goods lined shelves along right and left side walls. Other goods, including pickles in a barrel and spices in bins, were in the rear. Price tags were on round medallions hung by strings, and were about the size of Bull Durham tags.
When the shopping was done, the customer went to a checking counter. There the purchases were noted, weighed on a scale if necessary, and the money rung up on a cash register. The shopper emerged on the opposite side of the store through a turnstile marked out.
It took a little while for Clarence Egan's customers to get used to waiting on themselves. In fact. some of them never did. They would take a basket but still insisted that someone wait on them.
According to Paul Egan, Clarence Egan's son, his father got the idea of a self-serve grocery from Pello's Basket Grocery Co. in the Home Public Market-which extended from 15th to 14th St. along California St., right where The Denver Post now stands.
The first store, shown in the photo, opened in 1921 and was sold in 1924. Egan later operated two other grocery stores in Alamosa. He sold the last one in 1946 and retired. The store pictured was occupied by the Gamble Store until recently. It was vacant at the time Empire went to press.
-Spencer Wilson
Sept. 10. 1967 ~ EMPIRE MAGAZINE

Egan's Basket Grocery Delivery Truck
Shown are son, Paul and wife, Jenny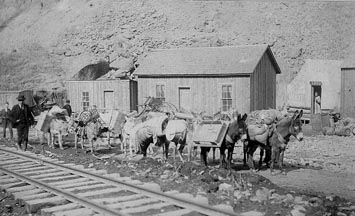 Clarence Egan shown with Mule Team that carried supplies to miners