The following quick lessons were generated during a workshop on the American Memory Collections. After exploring and working with some of the primary source materials, Library Media Specialists from Columbus Public Schools brainstormed ways the American Memory Collections could be used in the classroom. Although these are not fully developed lesson plans, the ideas are really great for sharing with the educational community.
Around the World in the 1890s

Illustrated sign on railway coach - "Women only"

Jackson, William Henry, 1843-1942, photographer.

CREATED/PUBLISHED
[1895]

NOTES
Published in Harper's Weekly, 1895, p. 1120

Gift; William P. Meeker; 1971.
Students would be introduced to the cultural aspects of different countries during this time period. By analyzing the photograph of this Woman from Burma, students would consider these questions:
1. What does woman mean in this country during the 1890s?
2. What are the types of activities women can or cannot be involved in?
Students would then select a country from an itinerary to study.
---
American Life Histories Manuscripts from the Federal Writer's Project, 1936-1940
Search: Clyde (Kingfish) Smith (1939)
Clyde sold fish in various ethnic neighborhoods in New York City. For each neighborhood he used different tunes and words so that neighborhood could understand and be attracted to buy his fish. Many examples of the songs and what neighborhood he would use it in are provided.
Activity:
Commercials - how to get people to buy your product - in this case fish

---
What Do You Do to Get a Vote Around Here?
Select 5 events from the timeline, One Hundred Years toward Suffrage: An Overview. Students will research and show why their selections are important. Print pictures that are relevant to the research. Then, arrange the pictures to form a timeline.
---
Taking the Long View: Panoramic Photographs, ca. 1851-1991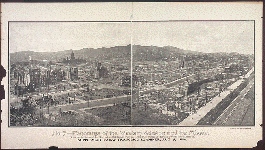 No. 5, Panorama of the western addition and the Mission, showing the ruins of the City Hall and St. Ignatius College, with Twin Peaks and Strawberry Hill in the distance. Supplement to San Francisco Examiner, Aug. 5, 1906.
CREATED/PUBLISHED
1906
NOTES
Copyright deposit; Theodore Kytka; July 31, 1906.

Three years after, San Francisco, April 1909
CREATED/PUBLISHED
1909 April
NOTES
Copyright deposit; R.J. Waters Aerial Photograph Co.; April 12, 1909.
Photographer's address: 717 Market St., San Francisco, Cal.
Disasters: Fires
Curriculum:
Art - photography, architecture
Social Studies - history of San Francisco, history of fires, fire fighting techniques, economic impact on the city with this kind of fire, development of city on individuals
Language Arts - prose description of the photos, comparison of photos, story or poem based on photos, point of view writings