| | |
| --- | --- |
| | Manifest Destiny |
| | Broadsides |
| | Buffalo |
| | Cultures |
| | Population |
| | Resources |

Science Ohio SLC 15: Explain how living things interact with the living and non-living components of the environment. Benchmark B: Explain how climate, weather, and the supply of food and water impact populations.
Art: Currier and Ives Art Print and Catlin Print. The art teacher can introduce lithographic art and famous artists of the time period.
The buffalo were an important resource on the Great Plains of the American West. Why did Native Americans hunt Buffalo? Why did the settlers hunt buffalo? What happened to the buffalo? What impact did this have on the Native American way of life? What impact did this have on the environment? Use these prints and photographs as starting points in your research.
Click on the picture to link

Buffalo hunt- chase

Photographic reproduction of a print from the "North American Indian Portfolio" by George Catlin

A Native American (Plains) man chases a buffalo on horseback. The man draws a loaded bow.

Hunting on the Plains.

New York: Published by
Currier & Ives, c1871.

Man on horseback with rifle riding next to bison.

The Library of Congress:
History of the American West

Evolution of the Conservation Movement

Click on the picture to link

Click on the picture to link

Geronimo carving buffalo meat for his Indians [1909]

Geronimo, a Native American (Chiricahua Apache) man, stands near a slain buffalo in Oklahoma. Other men and boys, some of whom wear feather headdresses, stand nearby. One man holds a staff decorated with feathers.

Painted buffalo hide

Native American (Mandan) painted bison hide shows: scenes of hunters with rifles, shields, or bows and arrows, some wear feather headdresses; one on horseback. Collected by Maximilian Prince of Wied from the upper Missouri riverbanks around 1844.

The Library of Congress: History of the American West

One of the many uses for buffalo hides, fur coats. [188-?]

Two men with long buffalo hide coats, standing in photograph studio. No identification given, likely in North Dakota.
Language Arts and Social Studies:
Analyze and interpret the letter from Thoedore Roosvelt. Do you think the buffalo should have been shot or given to a zoo? Write a paper supporting you viewpoint.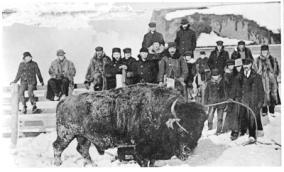 Click on the picture to link
Last buffalo killed in North Dakota, January 1907 : Casselton, North Dakota.
Men and boys in winter coats standing by fence behind a buffalo. Rope tied around horns of buffalo and held by man.
"My dear Mr. Lynch: I thank you for your gift, and appreciate it. And yet I am really sorry that you had to kill that buffalo bull. I am surprised that there should have been no market for him in the different parks and museums of this country, for I would have thought there would be plenty of people who would like to have him. With regard and thanks, I am, Sincerely yours, Theodore Roosevelt"--Text of letter written by President Theodore Roosevelt from the White House, January 28, 1907.
Language Arts
Read the story about the white buffalo calf. What is a myth? Write the story in your owns words or write your own myth.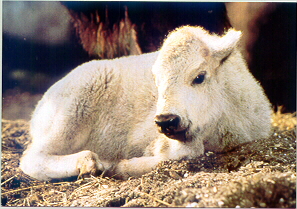 Miracle, The Sacred White Buffalo
Born August 20, 1994
The Heider Farm ~ Janesville, Wisconsin
Miracle's Website
Not an albino, she is considered to be the first white buffalo calf born since 1933.
Legend of the White Buffalo (PBS)
This is a story about a beautiful woman who gives the people a sacred pipe with twelve feathers.
Unified Arts:
Dance, music, art, physical education. Students can learn the buffalo dance steps either in a physical education or dance class. In music class, you can study various types of American Indian music and then perform a short piece.